Volunteer Opportunities
06/28/2023 03:26:28 PM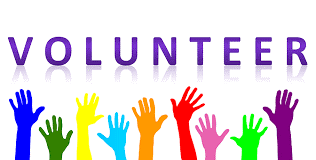 Looking to volunteer? Need a b'nai mitzvah project? Here are ways to help people in our community.
Serving Meals at the Catholic Multicultural Center
If you are looking for a fun, easy opportunity to help the community and spend quality time as a team, you can help serve a meal at the Catholic Multicultural Center (CMC). CMC provides free meals to community members on Madison's south side and people experiencing homelessness. Our volunteers set out and serve the food, join the meal, and then do the dishes and clean up. The Catholic Multicultural Center is located at 1862 Beld Street, Madison, WI 53713.
Our TBE team is signed up to help on the third Tuesday of each month from 3:30 to 5:30 pm. If you're interested in engaging with other TBE members to meet this critical community need, click the sign-up link. Contact Sue Levy if you have questions.

Court Observers for Criminal and Eviction Court
Several Temple Beth El members act as court observers under a program run by the Nehemiah Center for Urban Development, watching and reporting on criminal and/or eviction court hearings. Observers make their own schedules and are expected to observe about four hours each month. For more information, you can contact any of those currently involved: Betsy Abramson, Lynn Silverman, or Cari DiTullio.
Middle School Literacy and Math Tutors
The Racial Justice Action Team partners with the Urban League of Greater Madison to recruit adults as literacy or math tutors in Madison's middle schools. Volunteers complete online trainings and then select the middle school of their choice to commit to at least one hour each week working with individual students. You can begin to explore this opportunity by completing the volunteer tutor application. To learn more about it, contact Betsy Abramson at 608-332-7867, who tutored in algebra twice a week at O'Keeffe Middle School. She learned a lot of algebra herself and reports great satisfaction in helping a 7th grader catch up in this critical skill.
Setting Up Apartments for Newly Arriving Refugees
Temple Beth El works with Jewish Social Services as they help refugees from all over the world resettle in the Madison area. JSS provides case management, job help, and housing for newly arrived refugee families. TBE volunteers work to set up apartments with furniture and food, and provide tutoring and mentoring as needed. Contact Sherie Sondel.
Volunteering through Jewish Social Services
Jewish Social Services volunteers serve as drivers, friendly visitors, event supporters, language tutors, refugee resettlement helpers, and so much more. Here are some of the volunteer roles:
• Individual and family support: Extend and provide support by helping clients coping with a move, changes, or challenges in their life situations and by being an ally and resource person.
• Driver: Provide rides to clients for appointments and other destinations on an as-needed and as-available basis. This may be combined with individual and family support or designated shopper volunteering.
Designated shopper: Provide assistance and companionship by going shopping or running errands with or for clients.
Spiritual care volunteers: Visit people in memory care, after specific training for such visits.
Office help: Assist with various tasks as needed, such as mailings, record keeping, etc.
Volunteer for holidays, social events, and Shabbat: Assist staff by helping participants and their families and friends enjoy and participate in meals and events. Put together holiday gift bags and/or deliver holiday treats to people in their homes and living facilities.
Child care volunteers: Provide child care during an Afghan women's support group on Thursdays at 10:00 am at the Northport Community Center. The children range from infants to age 5.
Refugee mentorship through Aljirani Madison: Aljirani Madison (from the Swahili "jirani" and Arabic "aljar," both meaning "neighbor") is a six-month volunteering program that pairs a companion or small group of companions with a refugee or refugee family to provide a warm welcome, companionship, and practical help. Contact Erica Serlin or Lynn Silverman to hear about their experience and learn more about the program.
Refugee resettlement: Activities include finding and preparing homes before arrival, greeting the family at the airport, connecting them with local services, helping them secure employment and providing transportation as needed, all with assistance from JSS's experienced staff.
Community Action for Refugee Arrivals (CARA) program: Support JSS refugee clients by setting up apartments and engaging the broader community in ways to make Madison an even more welcoming place for refugees.
For all JSS volunteer-related questions, contact Paul Borowsky at 608-442-4083.
Volunteer Drivers for Immigration Appointments
The Dane Sanctuary Coalition provide rides for immigrants to the United States Citizenship and Immigration Services (USCIS) offices in Milwaukee, Waukegan, and Chicago, as well as the United States Immigration Court in Chicago. Recently we have started to offer local rides to immigrants who need to meet with local immigration attorneys but who live in parts of Dane County without much public transportation.
When a ride is needed, Dan Zimmerman or Dineen Grow, the co-coordinators for the volunteer driver program, send an email to the list of volunteers. Volunteer drivers only commit to a specific ride based on their availability. For longer trips, partial compensation for mileage and parking is available. If you're interested, there is a virtual training session about the role and responsibilities of a volunteer driver, USCIS processes, etc. Contact Dan Zimmerman or call him at 608-241-1158.
December 10, 2023
27 Kislev 5784
December 10, 2023 27 Kislev 5784