Reach Out to Your Congresspeople for LGBTQ Rights
05/10/2023 08:17:38 AM
We at TBE are partnering with Keshet and the Union for Reform Judaism and asking you to take action now for LGBTQ+ rights. Keshet, an organization that works for full equality of LGBTQ Jews, shared the following information. We ask you to read this message and take concrete steps to help combat hurtful legislation and support rights and dignity for all.
---
We're living in a time of unprecedented attacks against the LGBTQ+ community, especially against trans youth. With over 400 anti-LGBTQ+ bills introduced across the country, we are asking you to take action now for our rights.
Here are two anti-LGBTQ+ bills that are moving at the federal level:
HR 734, which would ban transgender and intersex youth from playing on school sports teams. If passed, this bill would take away the important social and health benefits, as well as the opportunities to build skills like teamwork, cooperation, and leadership, we know kids get from playing sports. (GLAD)
HR 5, which would allow the federal government to act as a national school board. If passed, this bill would undermine local control of education, and hurt the ability of both parents and teachers to support children. This would allow for unprecedented federal government control and disrupt the public education system, undermine our communities (especially LGBTQ+ families and families of color), and take away the resources and support LGBTQ+ youth need to thrive. (GLAD)
Take action now against these bad bills!

The fact that many of our elected officials are spending time writing discriminatory legislation against youth who just want to play sports and live their lives is disheartening. The good news is that we at Keshet are fighting these bills – and we need the support of dedicated advocates and allies like yourself to ensure that these bills do not become law.
And, there is more good news! On April 19th, the Do No Harm Act was introduced. This bill would clarify that the Religious Freedom Restoration Act is intended to protect religious freedom without allowing the infliction of harm on other people, including LGBTQ+ people and members of nondominant faiths, like Judaism.
Take action now for this good bill!
It is important to fight against anti-LGBTQ+ legislation and also fight for pro-LGBTQ+ legislation! We urge you to contact your elected officials and demand they support the LGBTQ+ community by voting NO on HR 734 & HR 5 and YES on the Do No Harm Act. As LGBTQ+ Jews and allies, we are compelled by our values to fight against injustice wherever we find it. We owe it to the LGBTQ+ youth in our lives and across the country to be firm against this proposed tyranny, and together, we can work toward a society where true equality is the law of the land.

---
Please join TBE members in participating in the actions listed above. Here is one more way for your voice to be heard: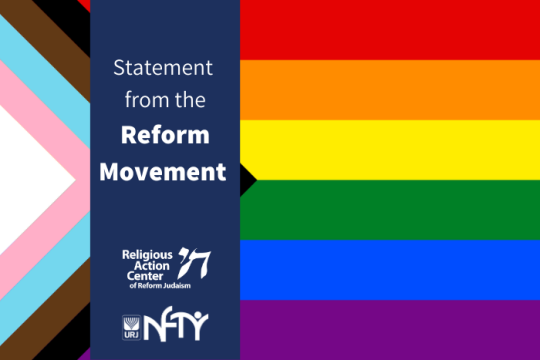 The Union for Reform Judaism, Keshet, and 90 other organizations already sent a letter to the House of Representatives in April. Add your voice now!
We can make a difference as we commit to living our values and take a stand against injustice.

June 6, 2023
17 Sivan 5783
June 6, 2023 17 Sivan 5783